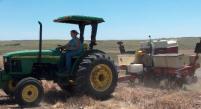 The purpose of the mini grant program is to develop the skills and competencies of agricultural professionals. Agricultural professionals include extension educators, Natural Resource Conservation Service Staff, state and federal agency workers and educators in the profit and not-for-profit sectors serving the food and fiber system.
Mini grant activities are to build educator expertise, develop new curriculum or programming, implement innovative educational approaches and create an opportunity for learning and skill development of the agricultural professional.

Applications are to include local stakeholders such as agency staff, not-for-profit organizations and other producers in planning, creating and delivering any mini grant outreach activities.

The intended outcome of the mini grant program is to develop the knowledge and skills of the agricultural professional. Applicants are required to explain how any mini grant activities will contribute to their professional development and/or the professional development of other educators.

Competitive grants of up to $1,000 are available. Applications should be submitted six to eight weeks prior to any mini grant funded outreach activities and are due by the 15th of each month.